A year on from the Northbound carriage opening, trading figures revealed orders placed with local food producers totalling £1.5m, with the local sourcing policy injecting an estimated £4.5m in the local economy last year, supporting over 130 local farmers, producers and emerging businesses.
A third of the jobs at the services have been filled by the Gloucestershire Gateway Trust's academy, a charity linked to the services which aims to get the long term unemployed back to full time employment.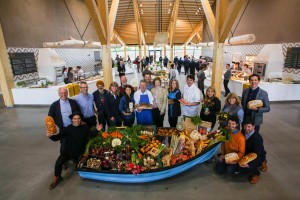 Sarah Dunning, chief executive of Westmorland Family which owns and operates the services says: "Local food and local producers are at the heart of our offering, alongside quality local staff, it's what makes our business special, it sets us apart.
"Bringing the concept of local food to the motorway is wonderfully democratic. Suppliers are given a shop window and accessible markets, motorists enjoy great local food, and we're preserving regional foods and identity. It's a game where everyone wins.
"Good quality locally produced food shouldn't be the sole preserve of high end shops, it should be affordable and available to everyone. That's why we serve it on the motorway."