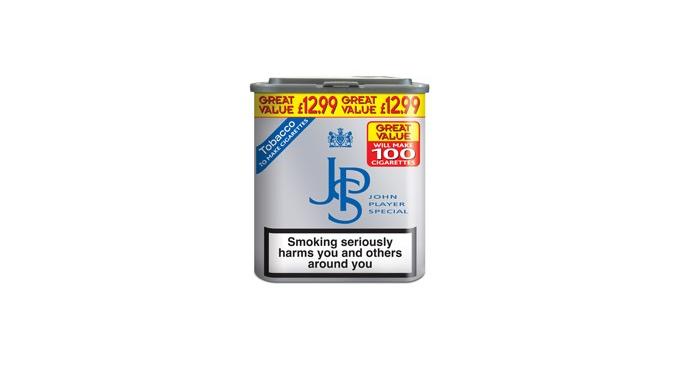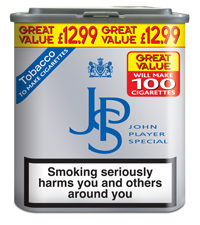 From 1 February, Imperial Tobacco's new 50g packs of JPS Cigarette Tobacco (specially developed for adult smokers to create their own JPS cigarettes using a 'cigarette making' kit) will be available to all UK retailers.
The new pack format, known as a 'Ceka can', contains 50g of loose JPS Cigarette Tobacco with a foiled seal. Designed to offer convenience, freshness and tidiness, the value for money proposition enables smokers to create 20 quality king size JPS cigarettes for just £2.80, after purchasing the accompanying cigarette maker and tubes*.
Martin Goodall, Imperial Tobacco's Head of Sales, comments; "Imperial Tobacco continually undertakes research into the preferences of adult smokers both in the UK and other markets. The insights gathered ensure our category-leading portfolio accurately reflects the preferences of those 12 million UK adults that choose to smoke.
"Over the past year the economic conditions have prompted growing numbers of consumers to seek more value for money from their tobacco purchases. Many smokers are switching to roll your own (RYO) tobacco for the control and economy offered by that segment and this has ensured dramatic growth. The 'make your own' proposition (MYO) provides cost conscious consumers with a lower priced alternative to both cigarettes and RYO tobacco. Since its launch in November last year, the JPS 'Cigarette Making Kits' have proven to be a popular choice with both cigarette and RYO smokers across the UK."
Martin concludes; "Product innovations, which reflect consumer preferences for quality brands at value prices, are imperative as the category moves towards the tobacco display ban and the associated increase in sales of illicit tobacco. Imperial Tobacco is renowned for forecasting trends within the tobacco market and offering brands which support our retailers' turnover figures. We are confident these new Ceka cans will quickly play an important role in supporting tobacco traders in these uncertain times."