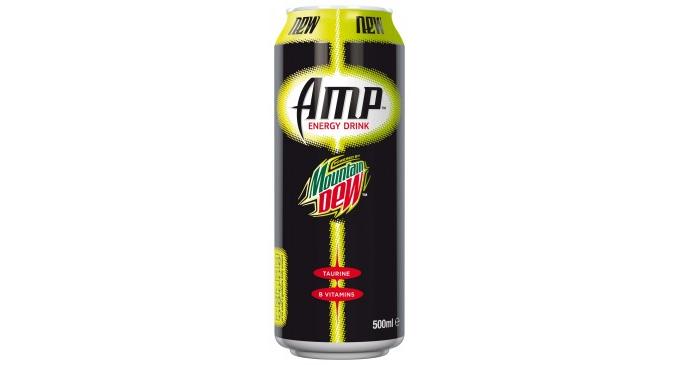 In yet another first for renowned brand Mountain Dew, leading Soft Drinks manufacturer Britvic & PepsiCo, has announced the launch of a unique new stimulant energy drink into the UK market.
Available to retailers from the 17th June, Amp Energy powered by Mountain Dew continues to deliver the great citrus taste Dew fans know and love, but contains extra caffeine, B vitamins and taurine – perfect for those who want high impact energy, without compromising on flavour.
Now worth £463m, Energy is the No.1 Soft Drink category within the impulse channel , with sales of Stimulant Energy Drinks up 16% YOY . Amp Energy powered by Mountain Dew offers shoppers attitude of an energy drink with the taste of a carbonated soft drink, and has been designed to capitalise on the growth opportunity the category presents.
Tapping into consumer demand for Stimulant drinks, Amp Energy will initially be launched across managed convenience, wholesale and forecourts. Targeting those on-the-go the NPD will be available in a 500ml can format with an MRRP of £1.39 and will be sold in cases of 12. Highlighting Britvic's on-going investment in the impulse channel, a PMP will also be introduced to support the launch. The price marked cans have a recommended retail price of 99p and offers visible value to shoppers which could present a significant sales opportunity for independent retailers.
Raising awareness and encouraging trial amongst the brand's target audience of 18-24 year olds, Amp Energy will be supported by a UK wide in-store focused campaign. Reaching shoppers at a range of touch-points, the activity will include activation in-store, as well as within gaming retailers to highlight the variety of energy occasions.
Digital activity will engage Dew fans online, whilst vibrant and disruptive POS will be available to help retailers drive sales of Amp Energy and the wider Mountain Dew range. Creating maximum impact in-store and providing clear stand-out against competitors, the latest range includes shippers, wobblers, posters and eye-catching hanging spinners for outlets where space is limited.
Jonathan Gatward, marketing director at Britvic, comments: "Amp Energy powered by Mountain Dew is the perfect product to unlock the energy opportunity further, as it breaks down perceived barriers in the stimulant sub-category by being tasty, refreshing and yet effective.
"We want the Mountain Dew brand to become the energy drink of choice, meeting all consumers' energy needs and consumption occasions thanks to our growing product range. AMP Energy powered by Mountain Dew is an example of how we're continuing to invest in the brand and the overall energy category to help further grow sales for our customers."
2013 has already seen Mountain Dew energise the category with its first TV campaign and the launch of Mountain Dew Sugar Free. The latest NPD from the brand is set to create further interest and provides retailers with the perfect opportunity to get behind their energy category and stimulate sales.
Stimulant drinks, such as Amp Energy powered by Mountain Dew, should be double faced in the chiller, sited beside other 500ml Stimulant Cans to catch shoppers' attention in-store.
Source: Britvic & PepsiCo