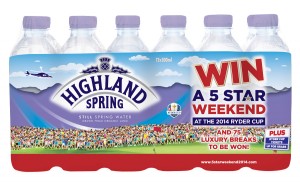 Bottled water brand Highland Spring has been announced as the official water supplier to the 2014 Ryder Cup.
To celebrate its involvement, the brand is launching a UK-wide on-pack promotion inviting consumers and retailers to be part of the action.
On shelf in September, the promotion which features on all major Highland Spring retail packs and on selected cash and carry packs gives participants the chance to win a luxury break for two people including tickets to the event and 3 nights' accommodation at a 5 star hotel in Scotland. In addition, there will be 75 luxury UK breaks for two people and pairs of 2014 Ryder Cup tickets to be won.
Each promotional label contains a unique code for consumers to enter at www.5starweekend2014.com to find out if they have won a luxury break or pair of tickets. All redeemed codes will be entered into a prize draw to win the top prize of the all-inclusive five star weekend.
With over 250,000 spectators expected on site during the event, and a further daily TV audience of 500 million people across 183 countries, The Ryder Cup has evolved into one of sport's most valuable and prestigious global brands, making it the perfect partner for the UK's leading bottled water company.
Claire Wilson, marketing manager at Highland Spring, said: "We are excited to be able to offer consumers and retailers the chance to get involved with one of the world's largest sporting events. 23 September marks a year to go until The Ryder Cup brings world class golf to the UK; the launch of our on-pack is perfectly timed to allow retailers to capitalise on this milestone and boost sales during the build-up to the event.
"We've got some truly amazing prizes that will appeal not just to golf fans and we are confident this will be one our most popular on-pack promotions in recent years."
Highland Spring has a long standing relationship with golf at all levels of the game including being Official Water Supplier to a number of European Tour Group Events. The brand is also a major supporter of UK sport and a long-term sponsor of many national and international events across tennis, cycling, rugby and athletics.
Source: Highland Spring