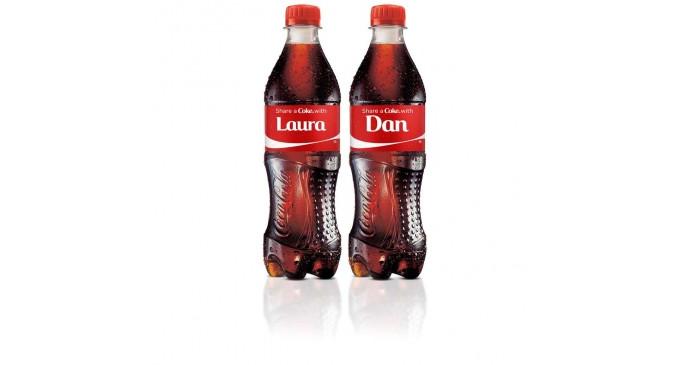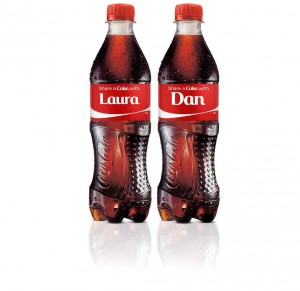 This summer, Coca-Cola is inviting people to come together and Share a Coke with their friends and family. As the brand embarks on its biggest ever summer campaign, consumers across Europe for the first time will see the brand's iconic "Coca-Cola" script replaced with consumers' names.
Over the summer, over 1 billion packs of Coca-Cola, Diet Coke and Coca-Cola Zero will carry consumer names from each market and in the spirit of togetherness and positivity, the campaign will encourage people to 'Share A Coke' with family and friends.
In Great Britain, 150 of the most popular names will be stocked on shelves across the country, with names ranging from Aaron to Zoe. The names will appear across individual 500ml and 375ml PET bottles, with larger sharing bottles and multipacks across Coke and its light variants, set aside for sharing with 'friends,' 'family' and 'everyone'.
For those consumers unable to find their names on pack, the 'Share a Coke' campaign is also brought to life online at www.shareacoke.co.uk, where personalised Coca-Cola virtual cans can be created and shared with friends.
"This is the first time in our long history that we've ever replaced the iconic "Coca-Cola" script on pack and who better to celebrate with than the people who love our brands the most – our consumers. It's fantastic that we can really personalise the product for them," said Caroline Cater, Operational Marketing Director for Coca-Cola Enterprises.
"We're issuing the invite for people to connect and as part of that we want the public to have fun finding the names of their friends and loved ones on our products, and taking the time to Share a Coke with them.
"The 'Share a Coke' campaign will capture the nation's imagination this summer and will help drive volume and value growth for retailers. We would urge them to stock up now and ensure that Coca-Cola's portfolio is prominent within their stores to take full advantage of this sales opportunity."
So Great Britain, this Coke is just for you.
Source: Coca-Cola Enterprises