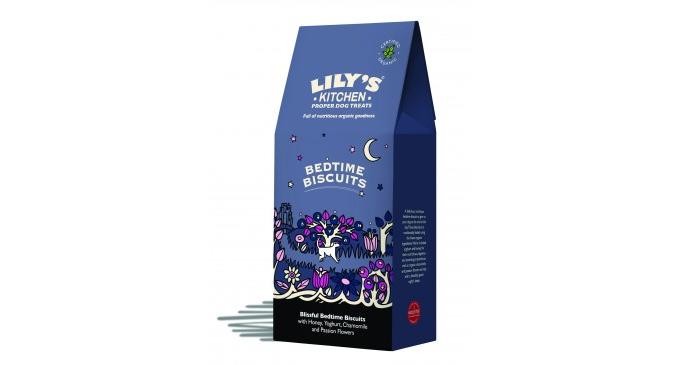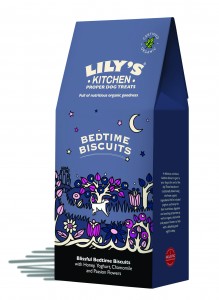 Lily's Kitchen, the first and only UK certified organic and certified holistic pet food company, is launching a tasty organic night time treat and reveals top tips for helping your dog settle before bedtime.
Labelled Bedtime Biscuits, the treats are traditionally baked using the finest organic ingredients – from wholesome Dove's Farm organic rye and oat flour to soothing chamomile and passion flowers renowned for their relaxing properties.  Other ingredients include nutritional yeasts, organic yoghurt and honey as well as sunflower oil are all aimed towards promoting a good night's sleep.
To get the most out of these treats and ensure the best sleep for your pooch after its day of fun, you can incorporate these biscuits into a dog's bedtime routine. A dog's bedtime ritual is just as important as it is to the owner, and if you don't have a routine yet, Henrietta Morrison, founder of Lily's Kitchen has a few handy tips to guarantee you both a good night's sleep:
"Like us, dogs sometimes get a little peckish in the evening and our gorgeous bedtime biscuits won't hype them up, in fact quite the opposite – they have been produced especially to help calm the stomach and the mind."
"It's important to give a treat that's not packed with additives and preservatives as this will add to hyping up your dog when it's time for them to settle down for the night. Creating a bedtime routine for your pets is fun but also a lovely way to complete the day.
•    "Once you are ready for bed and the house is calming down, take your pet out for one last potty break and then give them a final drink of water
•    Settle them into bed with a calming treat, give them one last cuddle and turn the lights out
•    Lily, for example comes rushing in after her late night walk and leaps into her bed, ready for her Bedtime Biscuit!
•    If you do this regularly, your pet will learn that this is the routine, and as they get accustomed to this it will get easier as they will look forward to this consistency and the Bedtime Biscuit of course!"
The treats are available in 150g recyclable packs and can be purchased from existing Lily's Kitchen's stockists as well as from the website or from homeopathic veterinary practices and organic food shops.
The Lily's Kitchen pet food range for cats and dogs includes 13 recipes including Homestyle Chicken and Turkey Casserole, Goose and Duck Feast with Fruits for dogs and Organic Dinner with Fish for cats.

Source: Lily's Kitchen