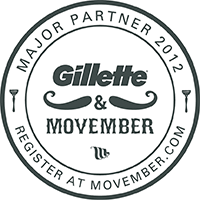 Together, Gillette & Movember will 'help to change the face of men's health' by raising awareness and funds for Movember partners, Prostate Cancer UK and The Institute of Cancer Research.
Movember was established in 2003 by a group of friends in Melbourne, Australia. The goal was simple – to raise awareness for men's health issues by promoting the growth of the moustache among like-minded people whilst having fun along the way.
Movember now spans the globe, with campaigns in 21 countries in 2012. In 2011, over 850,000 Mo Bros and Mo Sistas raised over £79.3m globally; with over £22m of that coming from the UK.
Gillette will launch a campaign which will bring Movember to Mo Bros across the country via TV, print, radio, instore and across digital and social media platforms including its Facebook page www.facebook.com/GilletteUK . More details of the campaign will be released at a later date.
Gillette will be encouraging men up and down the country to embrace the gentlemanly spirit of the Mo in a campaign that harks back to a golden age and celebrates the timeless qualities of the gentleman. The centrepiece of the campaign will be an experiential Gillette barber shop in London that will be open throughout Movember and offer Mo Bros a space fit for a gentleman.  Gillette will also be raising up to £100,000 for Movember through donations for every Gillette product sold with the Movember Stamp.
The partnership coincides with the recent launch of the Gillette Fusion ProGlide Styler, which the brand describes as 'the perfect tool for Mo bros this Movember.' The new Gillette Fusion ProGlide Styler™ is Gillette's first 3-in-1 precision grooming tool, combining Braun engineering and Gillette Fusion ProGlide technology; allowing Men to create their new style this Movember.