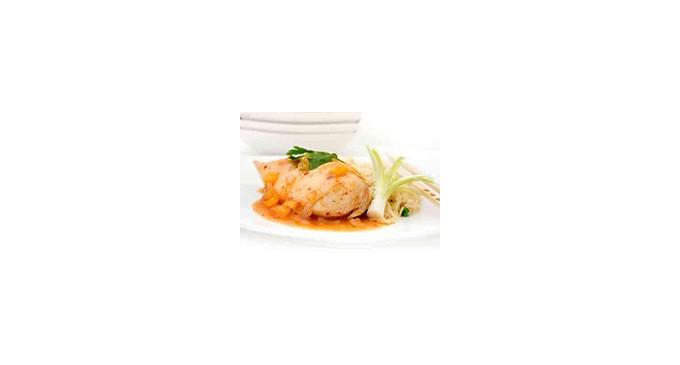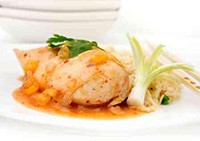 Gilbert's Foods, a leading supplier of quality meat and poultry dishes to the independent retail sector, has launched a new Sweet Chilli Chicken dish in time for Chinese New Year celebrations on 10th February.
The new Oriental-style main course dish contains a full, boneless chicken breast in a medium hot sweet chilli sauce. The meal centre is ideal for at-home Chinese New Year celebrations and can also be sold all year round as an easy-to-prepare Oriental dish.
The tender, slow-cooked, individual portions (275g each) are made using the finest quality chicken breast meat, to a unique recipe using authentic Asian chillies designed by the team of development chefs at Gilbert's Foods.
Quick and easy to prepare at home, the Sweet Chilli Chicken dish can be cooked using the sous-vide (boil in the bag) method for 20-25 minutes or in the microwave on full power for six minutes. The portions are ready to be heated from frozen or chilled and the bag simply needs to be cut across the top then the meat and its sauce poured onto a serving plate.
The dish has a homemade appearance and consumers can experiment with accompaniments and serve with rice, noodles, dumplings or chips and an Oriental-style salad.
The product is available as an own label offering or can be branded Gilbert's Foods and the quality, taste and texture of each product is guaranteed for up to 12 months when kept in a freezer.
Peter Smith, managing director at Gilbert's Foods, says: "Chinese New Year is a great opportunity for independent retailers and convenience stores to capitalise on to boost profits and to provide menu ideas for busy shoppers. Our Sweet Chilli Chicken dish is a great addition to store shelves as it's a dish consumers are familiar with and has a strong spicy kick without being overpowering.
"We understand that shoppers want foods that deliver on taste, quality and value for money, with authentic flavours and filling dishes that they know and love and our dish meets all of these needs. By investing in our top quality meal centres, retailers can help their customers recreate popular dishes in a matter of minutes to meet consumer demand for home-cooked style, tasty foods.
"Our range is specifically designed for the convenience retail sector and this dish makes a great addition around Chinese New Year but is also a classic dish that can be enjoyed all year round. Our team of chefs has worked hard to ensure the dish offers the ideal combination of flavours and quality, tender meat that consumers will love. The success of this product will drive the company forwards as we continue to expand the business and become a major player in the UK food industry."
Gilbert's Foods' products are available to multiple and independent retailers across the UK via a network of distributors.