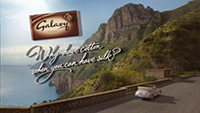 The iconic screen and style icon Audrey Hepburn will be gracing UK TV screens from Sunday 24th February 2013, starring as the face of the new advertising campaign for indulgent chocolate brand Galaxy, which is reviving its signature strapline 'why have cotton when you can have silk?'
The glamorous Hollywood starlet brings a flavour of 1950s elegance and indulgence to the brand, as she becomes the new 'Galaxy Girl'. The star is brought back to life using cutting edge CGI technology to create never-before-seen footage of Audrey in a Galaxy advert. It tells the simple, elegant story of our film star protagonist, Audrey Hepburn, seeking a place to enjoy her Galaxy chocolate; a move akin to one from cotton to silk.
Set in the 1950's on Italy's Amalfi coast, the setting is reminiscent of the movies that made Hepburn famous. The advert sees the beautiful young Audrey sitting on a crowded bus, wondering when she'll be able to indulge in her Galaxy chocolate bar. A car pulls up alongside the bus and she catches the handsome driver's eye – she seizes the opportunity to leave the bus to recline in the luxurious back seat of the open top car where she enjoys her Galaxy. As they drive into the distance, the endframe reminds viewers that with its silky, smooth taste, Galaxy is a pleasure worth taking.
In addition to the new 60 second TV advert, the revival of 'why have cotton when you can have silk?' will also be supported by consumer and trade advertising, press, sampling, digital activation and PR.
Bep Dhaliwal, Trade Communications Manager for Mars Chocolate UK, commented: "Audrey's playfulness and timeless quality is the perfect fit for the Galaxy brand. She is a true style icon and perfectly evokes the feeling of smooth elegance associated with the indulgent brand. The use of Audrey, along with reviving our strapline 'why have cotton when you can have silk?' will create an increased focus on the brand and retailers are advised to stock-up now to meet consumer demand."
The campaign has been developed in partnership with advertising agency AMV BBDO.
Source: Mars Chocolate UK