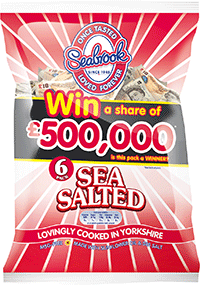 Britain's original crinkle cut crisp, Seabrook Crisps is giving consumers the chance to win a 'packet' by launching its biggest ever on-pack promotion.
With a total prize pot of £500,000 cash up for grabs, the brand's 10 week nationwide promotion will launch on 9 million packs from 5 November.
The Seabrook Crisps promotional packs will be available across all trade channels on 11 bag variants from the single bag and six pack ranges.
For a chance to win one of the hundreds of cash prizes on offer participants must enter the date code on the Seabrook Crisps packet on the online competition page www.seabrookcrisps.com/win. There are 50 of the £1,000 jackpots available and other cash prizes including £500, £100, £50 and £10. All entrants will also be placed in a weekly draw for the chance to win £100.
The major promotion will help retailers to create excitement and trial in their crisps and snacks aisle at a crucial end-of-year sales period when shoppers are looking to stock up for Big Night In occasions, festive parties and family treats.