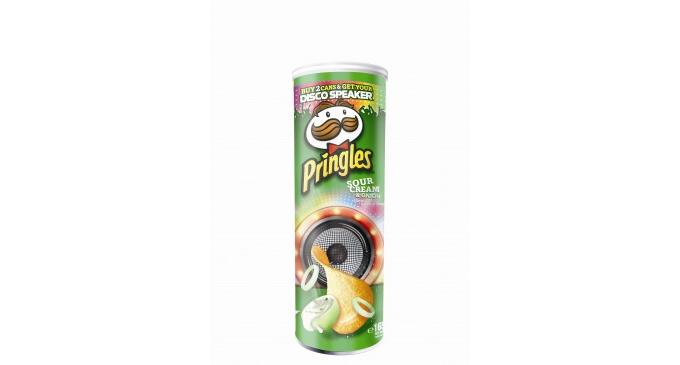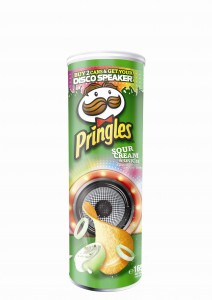 Pringles is helping convenience retailers "shake" up their sales this summer with its new disco speaker promotion.
As part of the deal, shoppers will be able to claim a LED colour flashing speaker with every two cans of Pringles purchased – a move which is set to be a hit with festival and party goers. The speakers work by connecting to a smart phone and flash different colours to the sound of the music beats.
The offer will feature on special promotional cans from June 2013 and they have a RRP of £2.49 for 190g. The flavours included in the promotion are Sour Cream and Onion, Original, Salt and Vinegar and Texas Barbeque.
Pringles, which is owned by Kellogg's, is also investing in a £1m media campaign to support the promotion. This will include an advert, mass sampling at V Festival, digital activity as well as a new TV partnership with MTV where there is a host of free VIP passes to the Benicassim Festival up for grabs.
To claim the free speakers, shoppers will need to visit the Pringles website (http://www.pringles.co.uk) and enter two batch codes, found on the bottom of each can. A £1.70 postage fee applies and codes are redeemable until 31st December 2013.
Laura Sutcliffe Pringles brand manager, said: "Pringles is the number one sharing snack in the UK which is why we need to be a part of major social gatherings like festivals- it just makes sense.
"We know shoppers love these speakers and we are confident retailers can really bring this promotion to life and create some fantastic displays in store. It presents a fantastic sales opportunity for them and will be incremental to the category.
"They can also take reassurance in the fact that Pringles has more than 2 million followers on its Facebook page- and through various other media- shoppers will be hearing all about this offer – so we are really encouraging them to get behind it."
The artwork for Pringles price marked packs will not feature the free speaker promotion, however, the batch codes to claim will still be on the bottom of these cans and the same rules apply.
As an added incentive to trade partners who sell these packs, they will be able to apply for special point of sales kits to help them to create impactful displays in store to make shoppers aware of this promotion.
Pringles is the number one selling sharing snack brand in the UK and is worth over £160 million in retail sales.
For stockiest information, please contact the Pringles care line on 0800 731 4994.
Source: Kellogg's