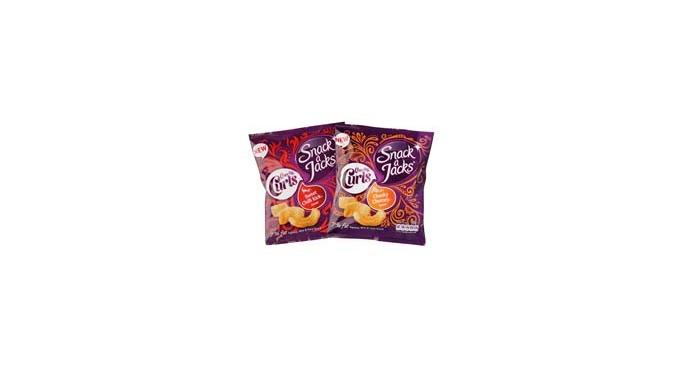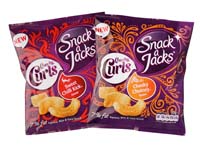 Snack a Jacks, the leading brand in the healthy savoury biscuit category (£43m ) is set to drive strong New Year sales with the launch of new Crunchy Curls. Made from tapioca, rice and corn – new Crunchy Curls are popped in air instead of fried, creating a deliciously tasty snack at 88 calories, and 7% fat per 22g bag.
Crunchy Curls are available in two tantalising flavours, Sweet Chilli Kick and Cheeky Chutney designed to maximise the significant afternoon and evening snacking occasion. Crunchy Curls is the biggest product launch for Snack a Jacks in recent years and promises to drive incremental sales and frequency of purchase in the expanding healthier snacks market. This innovative new product caters for health conscious women seeking guilt-free snacks that don't compromise on great taste.
Hayley Stringfellow, Marketing Director said, "Snack a Jacks is already a firm favourite with consumers and Crunchy Curls is a perfect extension to this much loved brand, providing retailers with an exciting new option for customers looking for great tasting healthier snacks. The launch of Crunchy Curls in the New Year is timed perfectly to maximise the healthier snacking opportunity after the indulgence of Christmas."
Crunchy Curls performed exceptionally well in product trials with 75% of women loving the taste and saying they would 'definitely' or 'probably' buy Crunchy Curls. Retailers should stock up on both flavours now and merchandise effectively to target healthy snacking consumers and maximise this opportunity.
PepsiCo will be supporting the launch of Crunchy Curls with a high impact marketing campaign to increase awareness throughout 2011 including experiential sampling, on-pack promotions, digital and PR activity.
Crunchy Curls are available now with a RRP of 55p per 22g bag.
Source: Pepsico