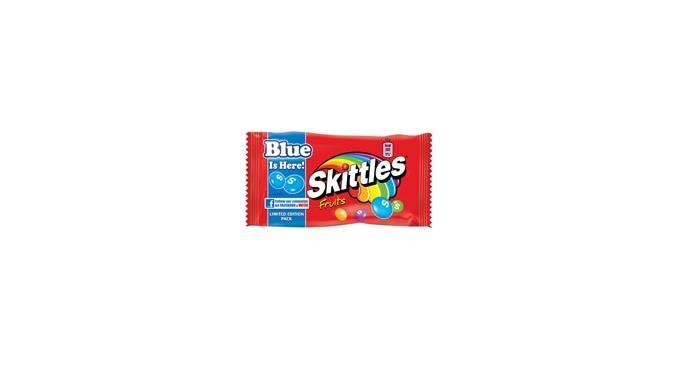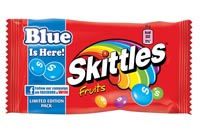 Skittles® take an unexpected turn with new Blue variant! Ever wondered why Blue was left out of the Skittles® rainbow? Well its simple; when Skittles® were first created Blue was too sad to join his five colourful friends in every pack.
However due to an intense consumer calling to reunite the rainbow, The Wrigley Company is giving Blue a chance and introducing a Blue variant to its fruity Skittles® selection. The limited edition Blue Skittle® packs will be available nationwide from Mid-March for a three month period.
The new packs will reflect the addition of the new arrival with the iconic Skittles® rainbow featuring an additional blue stripe and a call to action to visit the Facebook page to follow the Blue campaign and win prizes. One weekly activity will be to guess the flavour of the new Blue variant, which will no doubt be something unexpected to fool the taste buds of consumers!
The colourful confectionary brand currently holds the most popular confectionery brand fan page on Facebook in the UK with no less than two million fans. In fact, thanks to engaging promotions and whacky online stunts, Skittles® also boasts the third biggest FMCG global page with nearly 16 million fans.
Previous memorable online campaigns include 'Submerge a Man in Skittles®' in 2010, which gave Facebook fans the power to dump 15 Skittles® at a time on top of a man in a clear Perspex box, which was live-streamed for 24 hours. The new Blue Skittle® addition will look to draw in more fans, as well successfully increasing product sales for retailers.
Skittles® Brand Manager, Elena Ibora says, "The success of the Skittles® UK Facebook page has been phenomenal, proving Skittles® core fans are clearly socially active online. However we want to keep them engaged by ensuring the element of surprise or unexpectedness is present in all we do. Our new Blue campaign will do just that!
"We are confident that with activities like the new limited edition Blue variant and driving people to the Skittles Facebook mechanic will create refreshed interest in the brand as well as driving sales. It goes without saying that we strongly advise retailers to ensure they are well stocked up as Skittles® fans will no doubt be queuing up to try the new limited edition packs."

Source: Wrigley