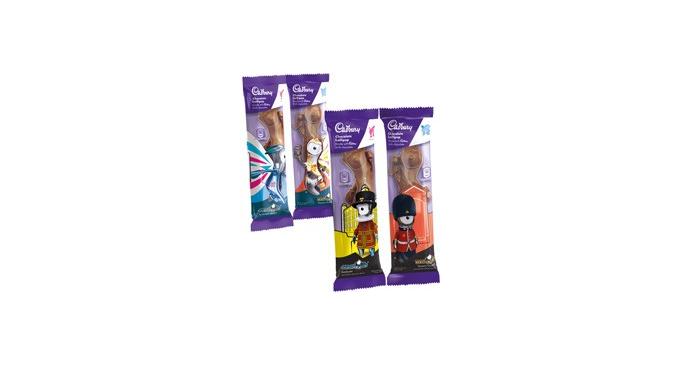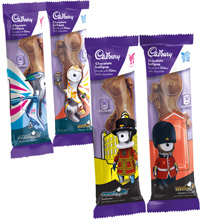 This September, Cadbury, the Official Treat Provider of the London 2012 Olympic and Paralympic Games, is asking consumers to help get behind Team GB in the lead up to London 2012 and keep them pumped, with inspirational Power Training songs as they prepare for the Games themselves.
Cadbury will be appealing to the public to 'Keep Singing' and help them record several iconic music tracks to be released to Keep Team GB Pumped all the way to 2012.
To thank consumers for their efforts, an on-pack promotion will also be launched across eleven of Cadbury's top selling products, including singles such as Cadbury Twirl, Cadbury Crunchie and Cadbury Dairy Milk (CDM), as well as the 230g CDM tablet range.
The promotion offers consumers a chance to win one of 150 cash prizes of £1,000, and music related rewards, such as headphones and music downloads . To enter, consumers simply type the unique code found inside their pack into the dedicated sales promotion website www.keepourteampumped.com/WIN.
Keep Team GB Pumped will be supported both above and below the line, with a total of £8m being invested through TV, TV sponsorship, digital, PR, mobile and experiential, launching from late September 2011. A full suite of POS will be available to different retail channels and millions of limited edition packs will be available in-store from 1st September, with the on-pack offer closing on 30th November 2011.
After its remarkable limited edition comeback in 2009, Wispa Gold is making a welcome permanent return as part of Keep Team GB Pumped, this November. Wispa Gold was the second biggest confectionery NPD launch in the past six years, second only to Wispa  and delivered strong incremental sales to the category.
The new pack will include a limited edition design, emphasising the word GOLD and referencing Keep Team GB Pumped. The re-launch is being supported by an incremental £1.5m marketing spend across in-store and outdoor activity.
Finally, in September, Cadbury  is launching four innovative new Olympic and Paralympic mascots shaped products to celebrate its association with the Games.
The new Cadbury London 2012 Mascots twinpack consists of two delicious aerated chocolates, perfect for sharing, giving as a token gift or as a personal treat. The new product has eye catching packaging, featuring Wenlock and Mandeville in their core poses, highlighted by bright background colours.
Bassetts Jelly Mascots contain various fruit flavoured, mascot shaped jelly sweets, created for sharing occasions and to appeal to a wide range of consumers with the anticipation around the London 2012 Games ever growing.
The pack features a white background which contrasts with bright yellow, pink and green stripes and the official London 2012 mascots, Wenlock and Mandeville, also appear on the front of the bag.
In addition, there will be a hollow chocolate Wenlock launching as the ideal gift or stocking filler for Mascot fans and a solid Cadbury chocolate Mascot lolly, in a variety of collectable designs, creating the perfect token gift.
Cadbury  has launched these exciting new products to help further increase awareness of the London Olympic and Paralympic Games and build excitement for consumers. The London 2012 Games offers a billion pound  retail opportunity that is unlike anything any of us has experienced before and it's predicted that a quarter of these sales will be made this year between September and December.
25 million Brits watched the Royal Wedding this year and total revenue hit £50 million, so just imagine what that means for London 2012 and how retailers can capitalise on this.
Susan Nash, Trade Communications Manager at Kraft Foods, comments: "With Olympic Games and Paralympic Games fever taking hold already, we are sure that Keep Team GB Pumped, Wispa Gold and Cadbury London 2012 Mascots will all be popular choices with shoppers , helping them to feel part of the excitement, really get behind the athletes.
"Retailers are advised to utilise POS material and stock the new products and promotions alongside other small London 2012 themed gifts. By creating a display and in-store theatre, retailers can maximise on the huge sales opportunity that the London 2012 Games and these limited edition products offer."
PACKS: Wispa Gold, retails at 56p; Cadbury Mascots twin-pack, 60p; Bassetts Jelly Mascots, £1.49; Hollow Mascot, £2.13 and the Lolly Mascot retails at 69p.
Source: Cadbury