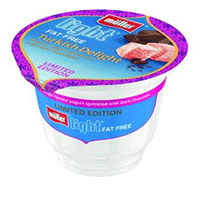 Müller Dairy is extending the hugely successful Müllerlight Greek Style yogurt sub-range and is also launching a brand new Müllerlight 'sprinkled with dark chocolate' Limited Edition, along with a £3m Müllerlight marketing campaign to help retailers make the most of the New Year seasonal uplift in sales of Britain's biggest-selling fat free yogurt brand.
The new Müllerlight Limited Edition – Turkish Delight flavour yogurt sprinkled with Dark Chocolate – will be rolled out on Christmas Eve along with Strawberry Sublime Müllerlight Greek Style yogurt – the fifth and latest flavour to join the Müllerlight Greek Style yogurt portfolio.
Sublime Strawberry will join the Müllerlight Greek Style yogurt Luscious Lemon flavour launched in August and the original trio of fat free Greek style lines – Coconut with a hint of Vanilla, Morello Cherry, and Honeyed Peach – introduced in March which spearheaded Müllerlight's entry into the burgeoning £100m a year Greek/Greek Style yogurt sector.
Müllerlight Greek Style Sublime Strawberry fat free yogurt has 83 calories and is packaged in  a 4x120g pack format with an RRP of £2.19 (6×4-packs per shelf-ready tray).
The new Turkish Delight sprinkled with Dark Chocolate flavour Limited Edition brings a unique and exciting new flavour option to the yogurt category and will be available during the spring and summer months following its launch in December in shelf-ready trays of 12 single pot with an RRP of 64p.
A UK industry first in the yogurt category, the Turkish Delight flavour has 91 calories per pot and replaces the Müllerlight Mint sprinkled with Dark Chocolate Limited Edition which took the market by storm when it was launched in February – within two weeks of going on sale it had become the fastest-selling Müllerlight single pot.
The two new launches will benefit from a new, high profile £3m media campaign breaking in January for the Müllerlight brand.
Michael Inpong says:  "Müllerlight's mission is to make healthier eating an enjoyable experience for consumers and our aim is to continue to take the lead in terms of flavour innovation as this has been one of the key drivers in Müllerlight's success.
"Müllerlight offers a wide range of options including 17 different flavours across the regular Müllerlight, and the 'with chocolate sprinkles' and 'dessert-inspired' variants, plus four flavours in the Greek Style yogurt sub-range. And all of these are fat free."