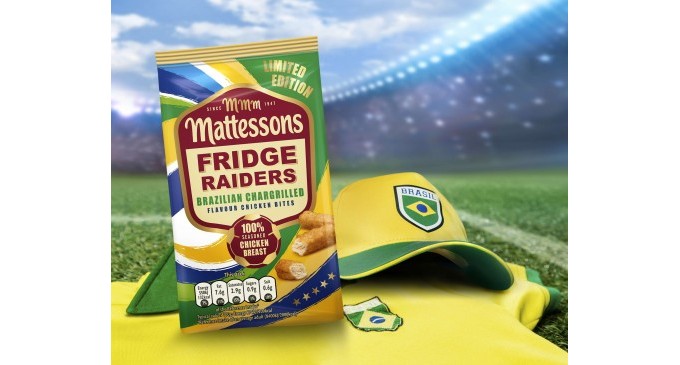 Mattessons, the iconic meat snacking brand from Kerry Foods, is aiming to score new sales this summer by adding a limited edition Brazilian Chargrilled flavour to its Fridge Raiders range.
Designed to drive sales during an action-packed summer of sport, the newcomer joins the successful Fridge Raiders line up as research demonstrates that snacking sales increase during big events .
Launching from this month, Brazilian Chargrilled flavour was inspired by traditional cooking methods and has been developed with all the usual great roasted savoury flavours of Fridge Raiders but with a sweet, smoky, chargrilled note to add a unique Brazilian twist for a totally tasty and satisfying snack. The new flavour is set to meet consumer demands for flavours with South American heritage whilst driving trial and frequency of the Mattessons Fridge Raiders portfolio.
"This is the first time Mattessons has launched a product which focuses on a specific event and we are confident this will grow the snacking category over the peak summer sales period," explains Tessa McFadzean, senior brand manager for Mattessons.
"In particular, Brazilian Chargrilled flavour Fridge Raiders will appeal to the three out of four shoppers who say they want to see more world cuisines in store, and with 45% of consumers planning to stock up on snacks during the summer sport in Brazil  there is a solid opportunity for retailers to generate incremental sales by delivering against this trend and offering innovative, South American flavoursome and bespoke snacking options during a key sales occasion."
Representing a 35% share of the Meat Snacking category, the Mattessons Fridge Raiders brand has enjoyed +11% growth in the last year and is currently worth £38m.
"By delivering a constant flow of flavour innovation with a tasty new variant added every six months, Mattessons continues to add excitement and interest to the meat snacking category," adds McFadzean.
Source: Mattessons