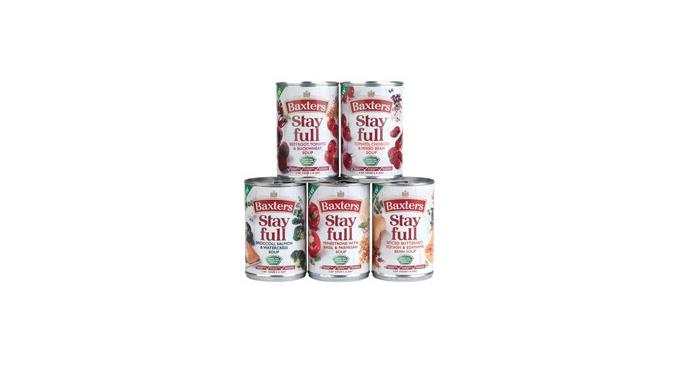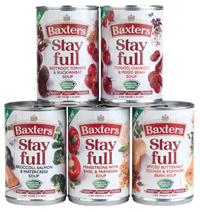 Baxters has unveiled a new two-week eating plan that promises to keep you feeling fuller for longer, boost energy levels and reduce unhealthy snacking throughout the day.
The Baxters Stay Full Challenge is a unique, step-by-step healthy eating plan that will help to maintain a nutritionally balanced diet and curb calorie filled cravings.
The Stay Full Challenge meal plan, which can be downloaded from Baxters.com, has been created by the Baxters nutritionist and offers daily meal options comprising one can of Baxters Stay Full soup a day for either lunch or dinner, a healthy lunchtime or evening meal plus a slow energy release breakfast and a selection of healthy snacks.
The menu suggestions are packed full of everything you need to maintain a balanced diet including lots of lean protein, balanced carbohydrates, fruits, vegetables and fibre.  Energy boosting breakfasts include porridge and wholegrain toasts and lunch and dinner options include tasty and satisfying meals such as stir-fries, salads, grilled salmon with steamed vegetables and beef & lentil stew.
Commenting on the new Stay Full Challenge, the Baxters in-house nutritionist said: "We all lead busy, fast paced lives and trying to eat a healthy and functional diet can be difficult, especially when we are on the go.  The Stay Full Challenge has been developed with these pressures in mind and allows you to eat three full meals a day as well as enjoy snacks that won't slow down your metabolism.
"One of the key elements of the Stay Full Challenge is one serving of Stay Full soup a day for lunch or dinner – a perfect way of ensuring you enjoy a balanced meal in a quick and convenient way."
The Stay Full soup range, created specifically to satisfy hunger for longer, has been crafted with Baxters culinary expertise and passion for great tasting soups and prepared with a selection of high protein vegetables, meats and pulses and balanced carbs.  Each of the five recipes deliver a minimum of 2 of your 5 a day, is low in fat and has less than 300 calories.  In addition the entire Stay Full range has no artificial colours, flavours or preservatives.
Independent consumer testing demonstrated that respondents felt significantly fuller up to three hours after eating Stay Full soups, compared with a standard soup.
There are five varieties available in the range; Tomato, Chorizo & Mixed Bean; Spiced Butternut Squash & Edamame Bean; Minestrone with Basil & Parmesan; Beetroot, Tomato &Buckwheat and Broccoli, Salmon &Watercress. Baxters Stay Full is available nationwide in selected Tesco, Morrisons and Waitrose stores at RRP of £1.69.
Source: Baxters