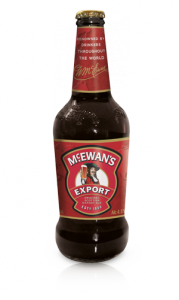 The UK's largest independent family-owned brewer, Wells & Young's is using the power of its biggest brand McEwan's to boost the premium ale category with a new innovation for the off-trade.
The brand has launched a bottled version of McEwan's Export, to offer retailers another strong option to stock in order to boost their beer sales. The new McEwan's Export 500ml bottle contains the same high quality 4.5% ABV premium ale available in the can and the label features the recognisable red colours and iconic 'Laughing Cavalier' that the brand is known for, ensuring that it can be easily found on-shelf.
As Scotland's biggest ale and the UK's No. 3 Premium Ale brand in the Off Trade1, McEwan's existing strength and the growing thirst for Premium Bottled Ales ensures that the new McEwan's Export bottle is a format that will drive more value in the £97m ale market1.
Available in all channels, the 500ml bottles are available through Wholesale and Cash & Carry in outer packs of eight to be sold as single bottles with a recommended RSP of £1.99. They should be placed alongside other Premium Bottled Ales on shelf to encourage shoppers to pay a premium price for better profit margins at the till.
Chris Lewis, Marketing Director at Wells & Young's said: "This is another significant investment in McEwan's since we acquired the brand in October 2011 and we are hugely excited about its potential. McEwan's continues to perform well in the overall premium ale market, despite the challenging economic times, and we are confident that we can continue to nurture and grow it.