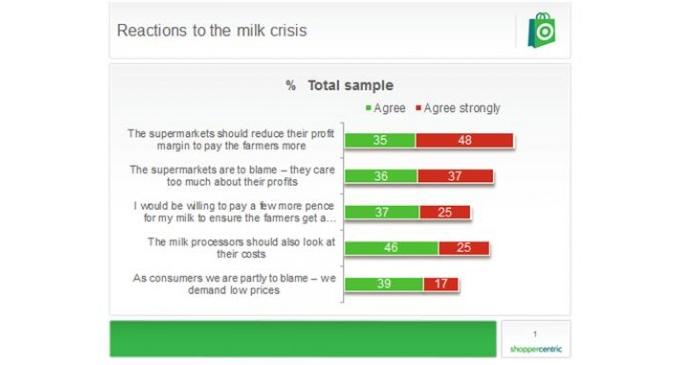 Whose responsibility is it to behave responsibly?! Are retailers, manufacturers and shoppers all 'doing their bit'? And when it comes to responsible behaviour, are retailers engaging with shoppers in the best way? Shoppercentric managing director Danielle Pinnington writes:
Our latest research found that over a third of UK shoppers said they would be encouraged to buy responsible products more frequently if they were easier to see in store and there were a larger range. Interesting isn't it?
From this finding, the logical conclusion would be that retailers need to do more to shout about their ranging initiatives in this area – correct? Well take a walk round most of the big grocers and you'll see that communication in-store about food origin and environmentally product IS already there. So why aren't shoppers appreciative of these efforts?
There are potentially three factors at play here:
Shopper blinkers: Shoppers have an annoying tendency to wear blinkers, focusing on the features in-store that is of most interest to them. As discussed in our earlier article, responsible considerations aren't necessarily top of mind, so messaging relating to these is easily overlooked
In-store signage noise: To be fair to shoppers, even without blinkers they'd be hard pushed to see responsible messaging amongst the morass of price or promotional signage
Cynical about sincerity: Even when shoppers are confronted with examples of in-store communication, there's almost a default mode of cynicism, with retailers and brands struggling to deliver a sense of sincerity.
If you ask shoppers to name retailers' or manufacturers' sustainability initiatives it appears to be TV ads that get you noticed – e.g. M&S Shwopping or Walkers' British potatoes. This reinforces the thought that the retail environment is currently too busy with price messaging for an ethical message to get across.
If shoppers aren't taking much note of responsible communication in-store, does it matter how business behaves? After all, the fact that most shoppers are using supermarkets for the majority of their shopping means they are happy to make the most of what supermarkets have to offer. And yet there is a sense shoppers do feel that supermarkets are too powerful, too focused on profits and may be making ethical noises but lacking real commitment.
As one shopper responded, "I do wonder if it is possible for some of the big companies to ever be ethical and I also wonder if those that are promoting ethical values are just doing so as a gimmick to try and sway shoppers to their products. Large companies and big profits do not seem to me capable of being truly ethical."
The milk price furore is a very current example of the business forces in play behind the supermarket scenes.  Shoppers are quite circumspect on this particular issue: they recognise that consumer pressure for low prices has contributed to the problem, with over 60% saying they would be willing to pay a few more pence to see farmers get a fair deal.
But over 80% think the supermarkets should reduce their profit margin and pay the farmers more and over 70% think the supermarkets are too focused on profits. "If a penny or so a pint is added, this would make a very small increase in weekly shopping but would make a worthwhile extra income to ensure continuing production in this country. I really do not want imported milk," said one shopper.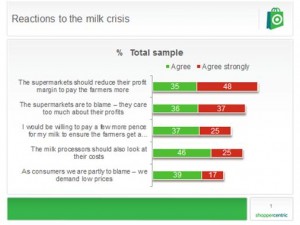 So, the question really is what do shoppers want from retailers and manufacturers?
Equal measures: They do not expect retailers and manufacturers to do everything. Most shoppers feel that responsibility for environmental protection and sustainability lies in equal measure with the government, retailers, food producers, manufacturers and the general public
Be thoughtfully proactive: The baseline for retailers appears to be treating suppliers ethically and using local suppliers where possible – being proactive rather waiting for a public backlash to take action.
At the end of the day, shoppers believe manufacturers and retailers should behave responsibly as a matter of course so that the decision to opt in, if you like, is taken away from financially constrained shoppers. Today's savvy shoppers are looking for companies to live and breathe responsibility through products and processes, rather than just referring to it in corporate PR campaigns.